Sierra Leone Vice President Dr Juldeh Jalloh expresses support for UN's SDG advocacy efforts.
"we will work together better so that the support we provide is efficiently harnessed and impactful".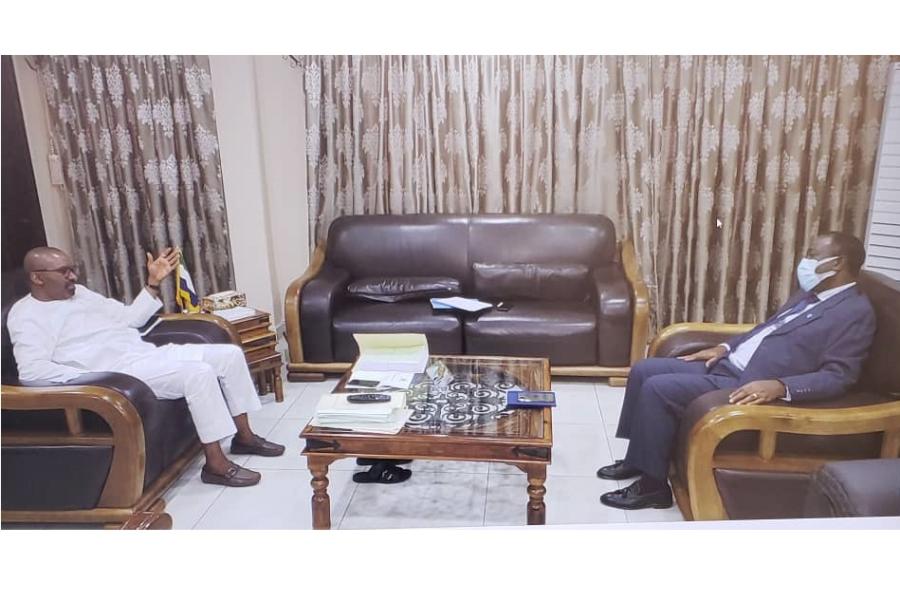 The Vice President (VP) of the Republic of Sierra Leone, Dr Mohamed Juldeh Jalloh has expressed his willingness to support the sustainable development advocacy efforts of the United Nations on behalf of the Government of Sierra Leone (GoSL). Speaking to the UN Resident Coordinator (RC), Mr Babatunde Ahonsi during a courtesy visit at the Vice-President's Office, the VP underlined the importance of the UN's efforts in coordinating with development partners to leverage international development assistance for the advancement of the country's development aspirations.
Mr Ahonsi, on behalf of the UN Country Team, indicated that he will strive to ensure more cohesive and coordinated support to the Government, saying, "we will work together better so that the support we provide is efficiently harnessed and impactful".
The RC also thanked the VP for the strong leadership in cultivating a robust and effective relationship with the UN, particularly towards the achievement of the Sustainable Development Goals (SDGs). He reiterated the importance of the UN-GoSL partnership in realizing the national development priorities through the SDG accelerators identified by the GoSL—SDG4 (on Quality Education) and SDG16 (on Peace, Justice, and Strong institutions).
On the COVID-19 pandemic, the RC outlined UN support to GoSL efforts to contain the pandemic and to Build Back Better. Mr Ahonsi also discussed issues around durable peace, social cohesion and sustainability with the VP.
His Excellency Dr Juldeh Jalloh thanked the RC for the visit. He mentioned that coordination requires systems thinking and a two-way approach driven by demand and supply. Through Mr Ahonsi, the VP called on the donor partners to scale up their operations and support to GoSL, particularly in the health sector. He also called on all UN agencies to support women's entrepreneurship as well as investments that would improve livelihoods, such as in agriculture and small-scale businesses.
UN entities involved in this initiative
RCO
United Nations Resident Coordinator Office