UN Country Team members assess the extent of fire disaster at Susan's Bay.
UN Country Team commiserates with survivors of Susan's Bay fire disaster in Freetown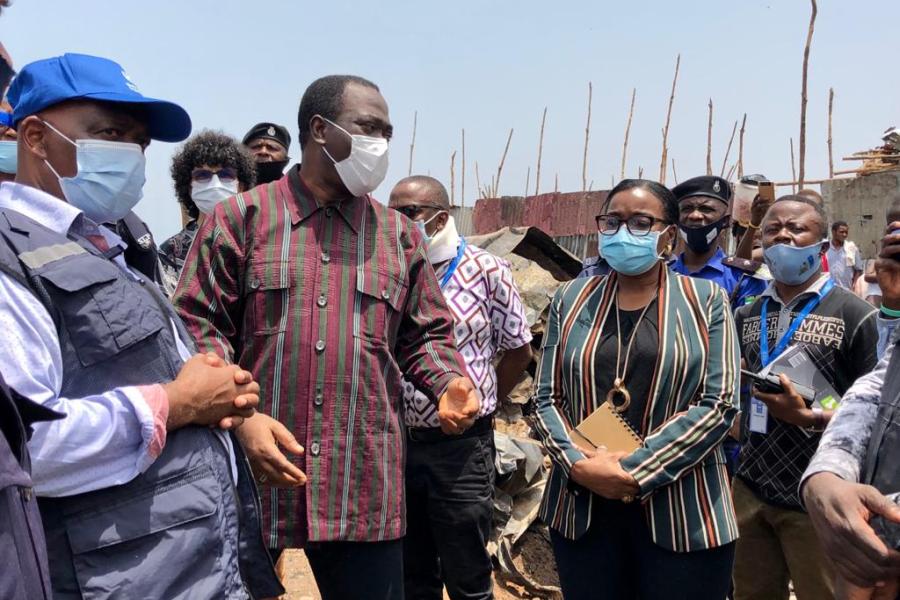 United Nations Resident Coordinator, Mr Babatunde Ahonsi, led several members of the UN's Inter-Agency Emergency Preparedness and Response Group, to commiserate with the survivors of Wednesday's night fire incident that affected Susan's Bay, an informal settlement in Freetown.
The settlement is congested and inhabited mainly by charcoal and wood sellers and other petty traders.
Speaking at the scene where he received an update on the situation by the Sierra Leone Police, the Office of National Security (ONS), National Disaster Management Agency, Freetown City Council, and World Food Programme personnel, the RC informed the survivors that the UN Country Team would be working closely with the Government and other agencies to contribute to their efforts to tackle some of issues arising from the crisis.
He commended the residents of settlement for their resilience in the face of the devastation caused by the fire outbreak.
A female community leader who was affected by the incident explained how the fire disaster started and appealed for interventions to address the affected residents' most immediate needs—food, clothing, and shelter.
The extent of the damage that seemed to have left hundreds of houses burnt and property destroyed could not be fully ascertained at the time of the visit as collection of basic data on those affected was ongoing. This is not the first time the community has suffered a fire crisis or flooding.
The RC was accompanied by WHO's Acting Resident Representative, Mr. Steven Shongwe, UNDP's Deputy Resident Representative, Ms. Rokya Dieng, and WFP's Deputy Representative, Ms. Yvonne Forsen
UN entities involved in this initiative
RCO
United Nations Resident Coordinator Office
UNDP
United Nations Development Programme
WHO
World Health Organization