Resident Coordinator visits UNICEF & UNOPS project sites outside of Freetown
The visit has helped the RC to further understand the enormous socio-economic challenges of communities outside of the big cities in Sierra Leone.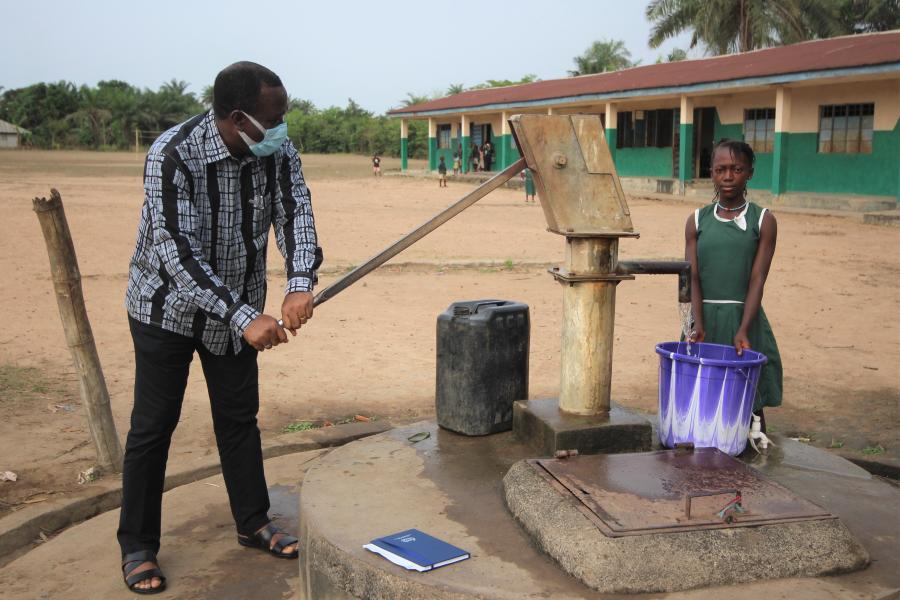 Photo | Janete Rebizzi
UN Resident Coordinator Mr Babatunde Ahonsi last week visited a Peripheral Health Clinic at Kurankoh village, Western Rural District, an Early Childhood Center at Magboronor and a solar mini-grid site at Foredegu in the Port Loko District respectively to familiarize himself with the programme operations of UNICEF and UNOPS with rural communities.
He visited the ongoing drilling of a borehole to ensure regular water supply to the village health centre, the primary school, and the installation of a solar pump for water distribution to the nearly 400 inhabitants of Kurankoh village.
The predominantly rice farming rural community, according to its headman, entirely depends on one borehole, and the construction of a solar-powered one with storage tanks from which water is distributed through several points is a laudable venture. 
According to the 2019 Sierra Leone Demographic and Health Survey, half of the rural population in Sierra Leone (51%) still struggles to get easy access to improved water sources. Health facilities are not spared.
To address this problem, UNICEF has worked with local civil society organisation partners to implement the Water Supply, Sanitation and Hygiene (WASH) Promotion programme, with funding from the U.K's Foreign, Commonwealth & Development Office (FCDO). 
At the Early Childhood Centre (ECC) at Magboronor, outside of Port Loko town, the RC interacted with children between 0-5 years old, where UNICEF is engaging with the community to provide early learning facilities. The ECC has three trained early childhood development educators and two trained care assistants that cater to 66 children. 
In Foredegu, the RC conducted a tour of the solar mini-grid site by members of Power Leone, the private operator of the site. He afterwards spoke with beneficiaries who spoke about the significant positive impact of the availability of solar electricity on their livelihoods and earnings.
The solar mini-grid at Foredegu is one of 45 sites constructed under the Rural Renewable Energy Project (RREP). The RREP was developed to support the Government of Sierra Leone's goals towards low emissions, climate resilience, gender sensitivity and sustainable growth trajectory. Supported by the UK's Foreign, Commonwealth and Development Office (FCDO), the RREP is implemented by the United Nations Office for Project Services (UNOPS) on behalf of the Ministry of Energy. Households, schools, and businesses pay for the use of the electricity while it is free for the Community Health Center. 
The RC says the visit has helped him to further understand the enormous socio-economic challenges of communities outside of the big cities in Sierra Leone and that he hopes to continue with such engagements.
Before his return to Freetown, the RC also met with the Provincial Secretary for Port Loko District, North-Western Region, Mr Prince Soriba who stood in for the Resident Minister.  
UN entities involved in this initiative
RCO
United Nations Resident Coordinator Office
UNICEF
United Nations Children's Fund
UNOPS
United Nations Office for Project Services
Goals we are supporting through this initiative