United Nations Sustainable Development Cooperation Framework Sierra Leone - 2020-2023
The UNSDCF 2020-2023 defines how the UN system in Sierra Leone will support the implementation of Sierra Leone's Medium-Term National Development Plan (MTNDP) 2019-2023 and the progress towards the achievement of the 17 global Sustainable Development Goals while ensuring that no-one is left behind.
The UNSDCF was created through a participative process with contributions from all UN agencies operating in Sierra Leone, Government, international development partners, non-governmental and civil society organizations and private sector entities. The analytical basis for the UNSDCF is the Common Country Analysis (CCA), prepared in 2018 in consultation with the various partners.
The UN Country Team (UNCT) in Sierra Leone and its partners jointly identified four strategic and mutually reinforcing priority areas for the UNSDCF cycle 2020-2023, namely:
Sustainable Agriculture, Food and Nutrition Security: By 2023, Sierra Leone benefits from more productive, commercialized and sustainable agriculture, improved food and nutrition security, and increased resilience to climate change and other shocks.
Transformational Governance: By 2023, people in Sierra Leone benefit from more gender and youth responsive institutions that are innovative, accountable, and transparent at all levels and can better advance respect for human rights and the rule of law, equity, peaceful coexistence, and the protection of boys and girls, women and men including those with disabilities.
Access to Basic Services: By 2023, the population of Sierra Leone, particularly the most disadvantaged and vulnerable, will benefit from increased and more equitable access to and utilization of quality education, health care, energy and WASH services, including during emergencies.
Protection and Empowerment of the Most Vulnerable: By 2023, the most vulnerable, particularly women, youth, adolescents and children (especially girls), and persons with disabilities, are empowered and benefit from increased social and economic opportunities.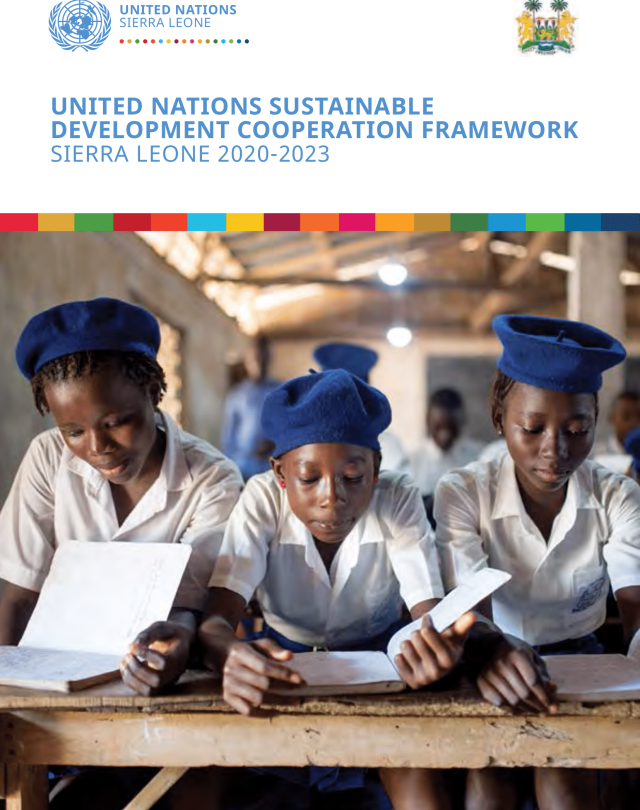 Goals we are supporting through this initiative